Bailey's Antiques and Aloha Shirts Inc. was founded in 1980 in Honolulu. Bailey's has the world's largest selection of aloha shirts (over 15,000) and is now doing internet business at alohashirts.com. In addition Bailey's has a wide selection of Americana and Hawaiiana antiques and collectibles. The antiques include lighters (Zippos and Hawaiian), Levi and Nike items, Hawaiian LPs, figurines, jewelry, sheet music, military items, toys, postcards, ephemera, etc.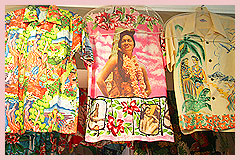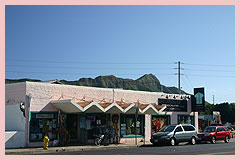 Aloha Shirts
Bailey's 15,000+ aloha shirts are divided into 4 subgroups: (Used, New, Vintage and Specialty)
Used
This subgroup consists of several hundred shirts priced at $9.99. There are thousands more priced mostly at $19.99.
New
Most of our new shirts are replicas of vintage shirts and include such brands as Kona Bay, Kalakaua, Iolani, Kahala, RJC and a dozen more Hawaii-based manufacturers.
Vintage
Our vintage shirts are divided into 70's, 60's, and 30's-50's and number over 1,000 (the largest selection for sale anywhere)
Specialty
This group includes about 2,000 Reyn Spooners (mostly $29.99) Sig Zanes, Tommy Bahamas ($19.99-$29.99), Jams World and 6 other hard-to-find labels.
An Invitation
The Travel Section of the N.Y. Times listed Bailey's as the only "must see" shop for visitors with 36 hours in Honolulu. We are just inland at the Diamond Head end of Waikiki (see map). Please visit us when you are in Honolulu. We also offer wholesale prices for large purchases ...and will attempt to help interested parties with online purchases of aloha shirts, Aloha, David Bailey (alohashirts.com).
Information
Phone

808-734-7628

Email

Address

517 Kapahulu Ave. Honolulu, HI 96815

Hours

Mon.-Sun. 11:00-17:00

MAP
On Air